The Job Description Equation
Grammar and syntax are the obvious challenges to learning a new language, but they aren't the only ones. Equally important, at least when it's time to apply what you've learned, are the conventions, jargon, and idioms of the culture you're working within.
A developer applying for a job is away from the tools, knowledge, and habits of her day to day work; a fish out of water in a world organized by HR.
As a shortcut for new arrivals, HR provides a semi-standard format for creating resumes and job applications. This saves everyone time, nudging candidates towards the expected form while providing semantic shortcuts for whoever ends up reading them. It also forces collection and organization of information vital to any hiring process: as our candidate knows, it's much easier to submit the next six applications once the first one is out of the way.
Hiring managers are rarely native inhabitants of HR-world, either. While they may be further than their candidates in learning the language and obtaining permanent-resident status, hiring is an additional task on top of their functional responsibilities.
Shortcuts aren't unwelcome.
The good news is that there are formulas they can follow, too, to and drastically simplify parts of the hiring process.
Given the formula, a mission statement, a career ladder, and another job description (it doesn't even have to be yours!) the job description of a new role should mostly write itself. Here's a sample job description that shows both the formula and the various foundational documents that feed into it: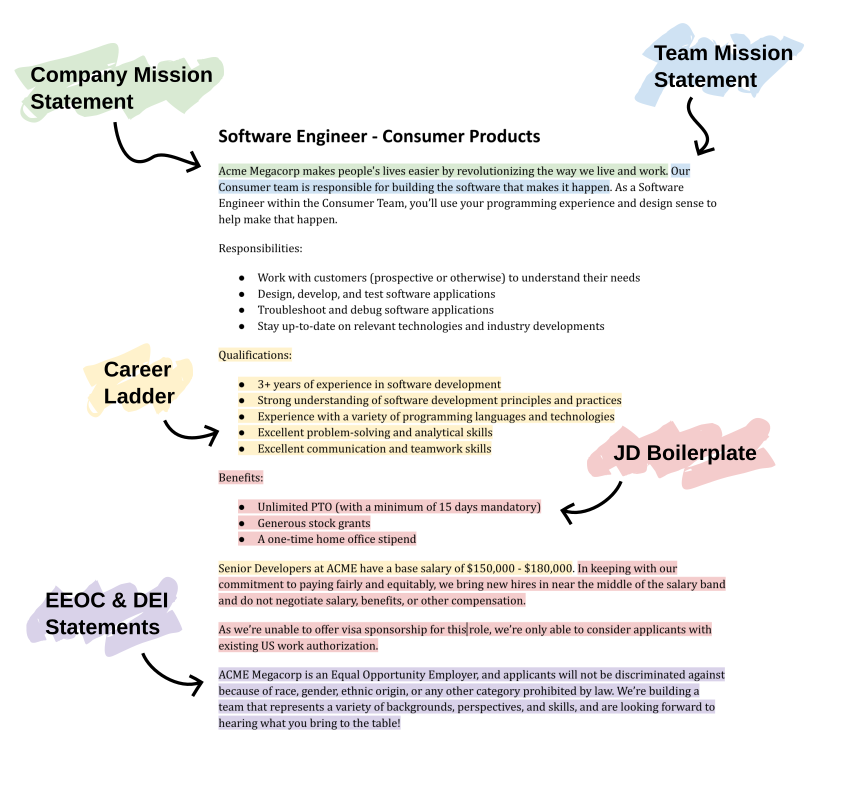 Digging into those inputs,
Company and team mission statements lay the foundation for the rest of the job description. What are you working towards that would make a candidate want to sign on? An additional explanation of the candidate's role within the mission rounds out the introduction.
Your career ladder or leveling framework should provide both the qualifications for the role as well as the pay band for the role. While your ladder won't specify the responsibilities associated with each role, it will also be useful in verifying that those laid out in the job description are within the realm of reason.
Other job descriptions can provide boilerplate around benefits, compensation philosophy, and work requirements. And if you follow a standardized interview process, outlining it proactively can give candidates clarity and confidence in what to expect from the process.
Finally, your EEOC and Diversity, Equity, and Inclusion (DEI) statements highlights your commitment to building a team with a wide range of backgrounds and perspectives. Research from Hewlett Packard suggests that men tend to apply for positions with only a 60% match between their background and the requirements. This is the place to offset that bias by inviting any candidate to apply, even if they aren't a perfect match on paper.
At an established company these documents will already exist. For an early-stage startup, though, hiring is an opportune time to create or revise them. Every new role is an opportunity to extend your career ladder, check in on the culture you're trying to create, and make sure you're broadcasting your intentions (and the opportunity that comes with them!) to anyone who will listen.
It's always a good idea to get somebody else to read job descriptions before you actually hit publish. Automated tools (from rules-based checks like Kat Matfield's Bias Decoder to full-fledged AI reviewers) can provide a basic level of feedback, but feedback from humans—and ideally ones who are actively in the job market—is what really matters. In particular:
recruiters (if you don't have any in-house, check with people who've recruited you in the past) have a read on the external market and experience positioning roles with a wide range of candidates
candidates' perception is the one that ultimately matters. If you aren't seeing qualified applications, or if subsequent interviews consistently fail on basic skills and expectations, the JD may be to blame
Candidates aren't you, and a job description that lays out a clear, compelling opportunity in their eyes is far more likely to attract the kind of applications you want. No matter how confident you are in the job description, be prepared to listen, learn, and revise it based on feedback from others.
Ultimately, though, there shouldn't be much to write. Stick to the formula. Revise past descriptions where you have to–mission statements, boilerplate, and career ladders, too. But on the job description, save yourself as much time as you can.
Spend it hiring great people instead!